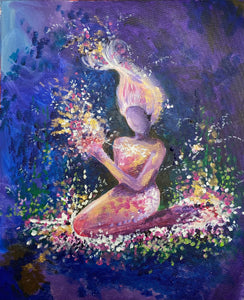 Shani Mojica
Sedna - Original SOLD
Regular price
$325.00
$0.00
Unit price
per
Tax included.
Sedna (Original SOLD)
ORIGINAL SPECS
2021
20"H x 16"L
Acrylic on Canvas Pad
Sedna is the goddess of the sea. There are many different stories about Sedna, but in most of them, her father gets angry with her and throws her overboard while out to sea.
Sedna tries to climb back into the boat and her father slices off all her fingers. She sinks into the depths of the sea and becomes the sea goddess.
The mythology says that her fingers morphed into dolphins, whales and seals. She ruled over the creatures of the sea, and in her tragedy, found her purpose.
Ultimately, Sedna's story is one about transmutation and personal responsibility. It's about finding peace and serenity in the deepest, darkest parts of us. It's about transforming victim hood into purpose.
+++ 
---
Share this Product
---