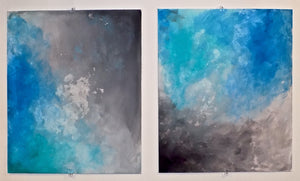 Shani Mojica
Water Under Heaven
Regular price
$450.00
$0.00
Unit price
per
Tax included.
Water Under Heaven
2016
2 boards, each 30"H x 20"W
Acrylic on canvas panel/board
Genesis 1:9
And God said, "Let the waters under the heavens be gathered together into one place, and let the dry land appear." And it was so.
+++
SHIPPING: These canvas board panels are shipped flat (not in a roll) and without a frame.  Local pickup and delivery is available.
---
Share this Product
---