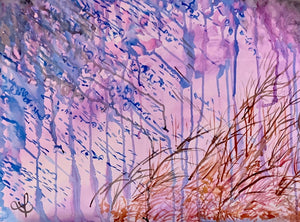 Shani Mojica
We Could Get Carried Away
Regular price
$55.00
Sale price
$125.00
Unit price
per
Tax included.
We Could Get Carried Away
2016
18"H x 24"W
Watercolor and acrylic on heavyweight paper
Midwestern summers are marked by screeching weather signals, golden wheat fields, and intoxicatingly serendipitous encounters.
+++
SHIPPING: This painting on paper is shipped flat (not in a roll) and without a frame.  Local pickup and delivery is available.

---
Share this Product
---